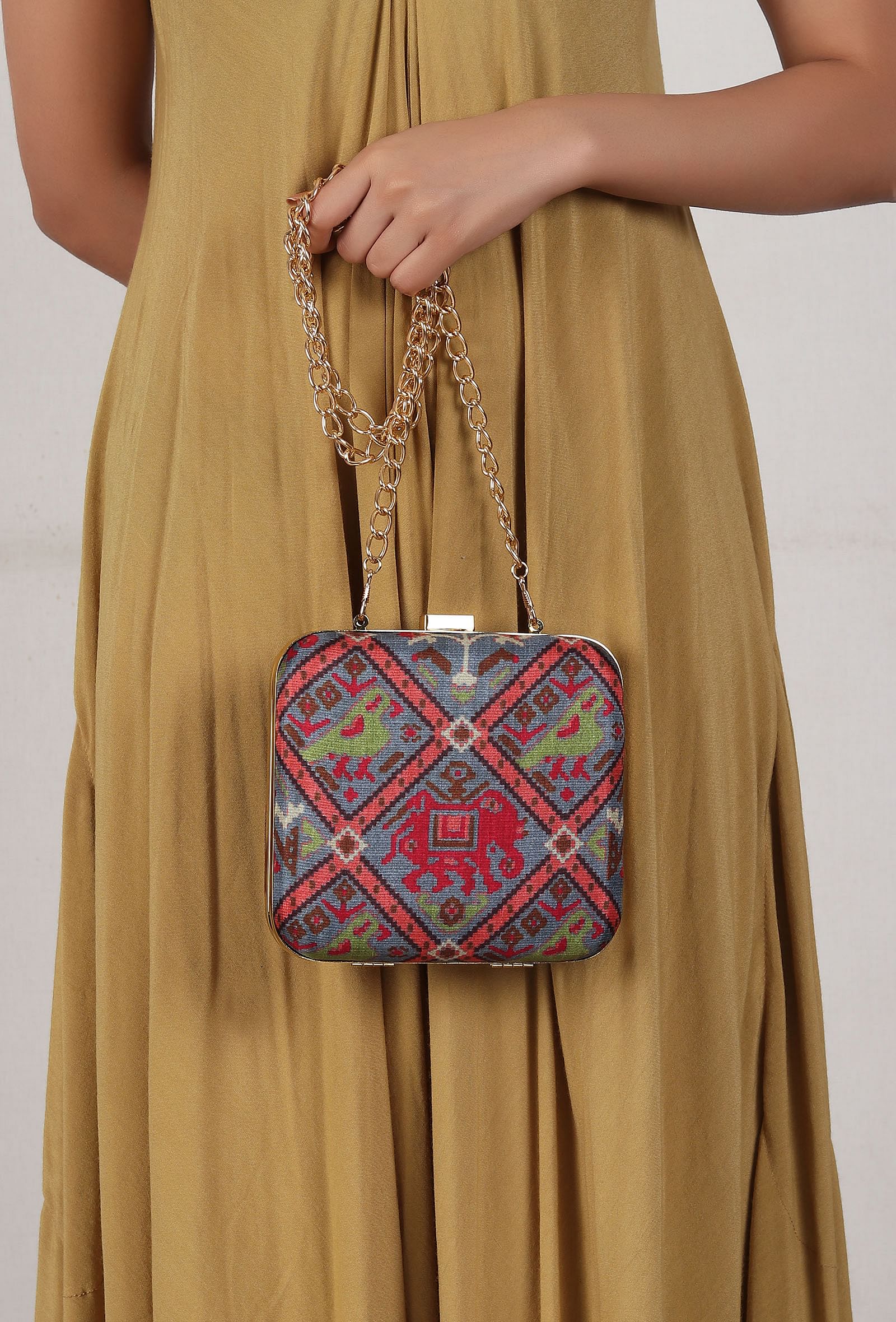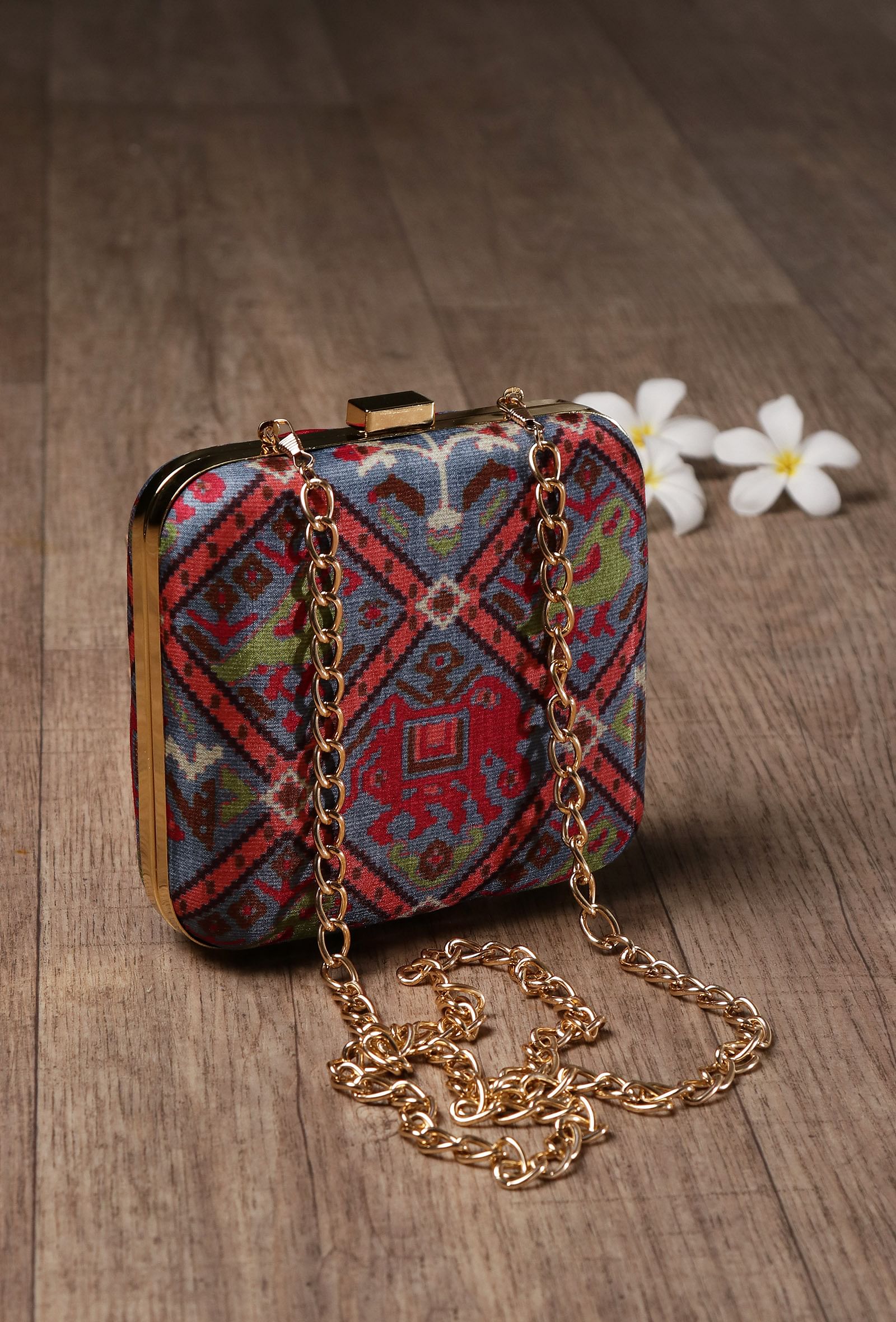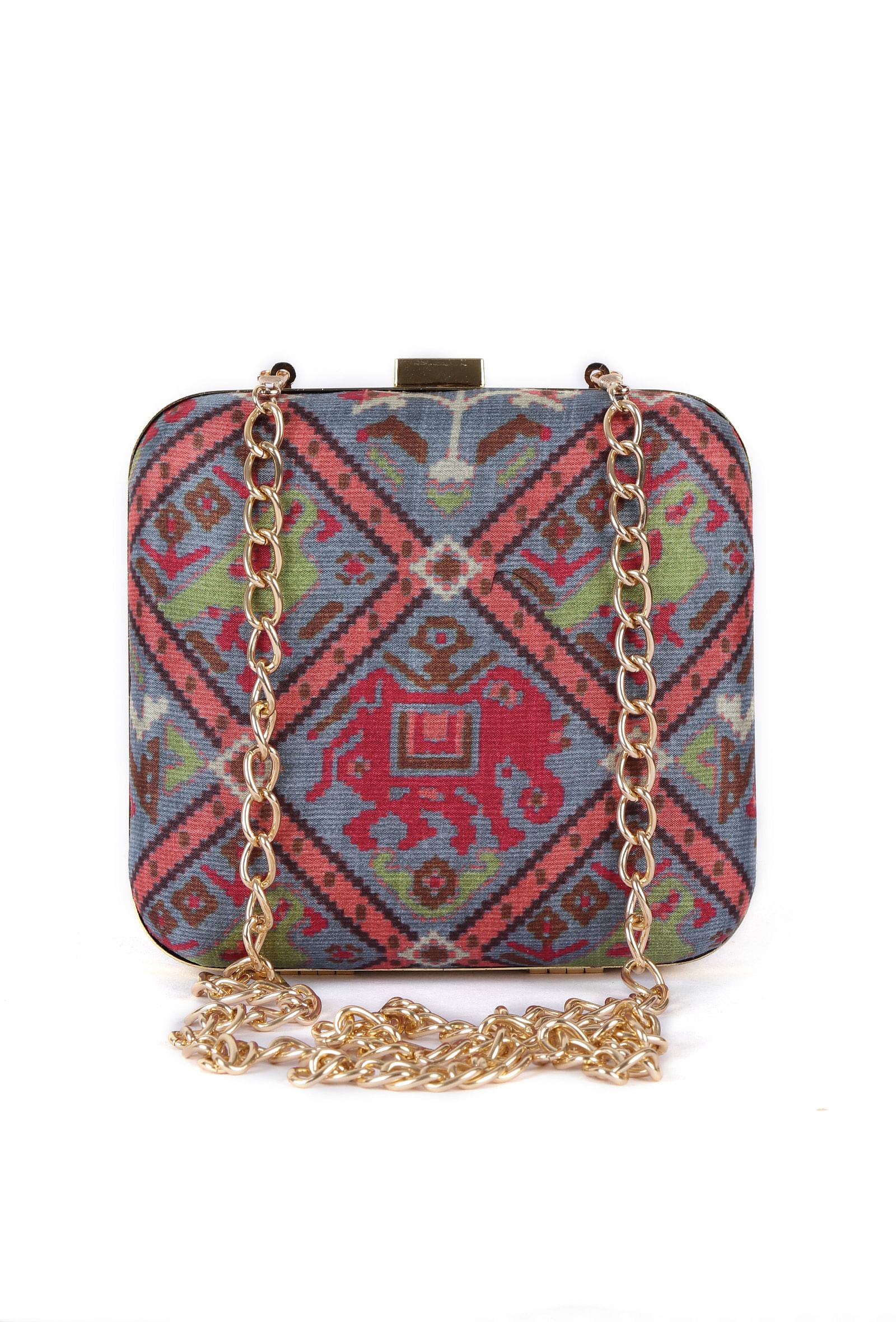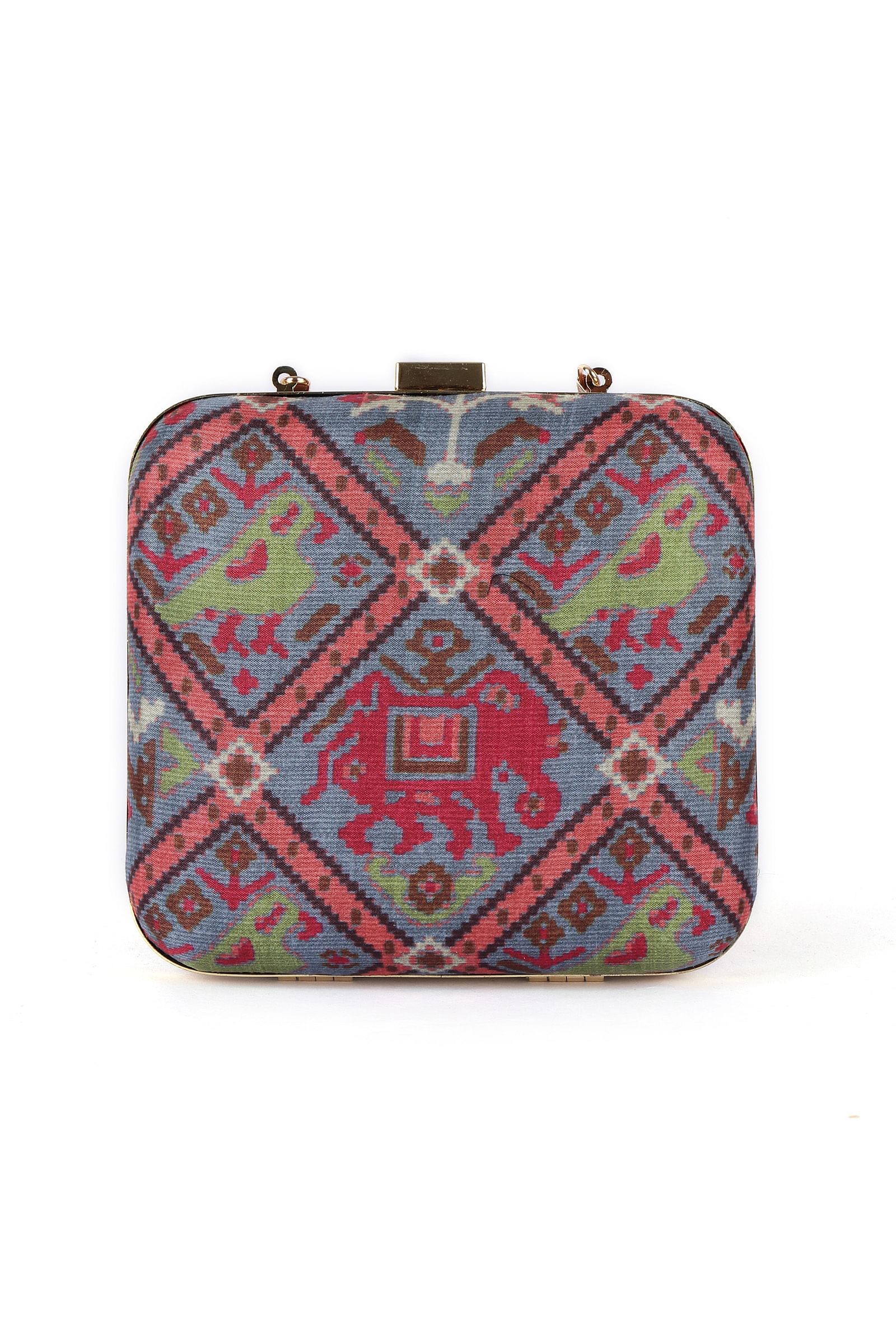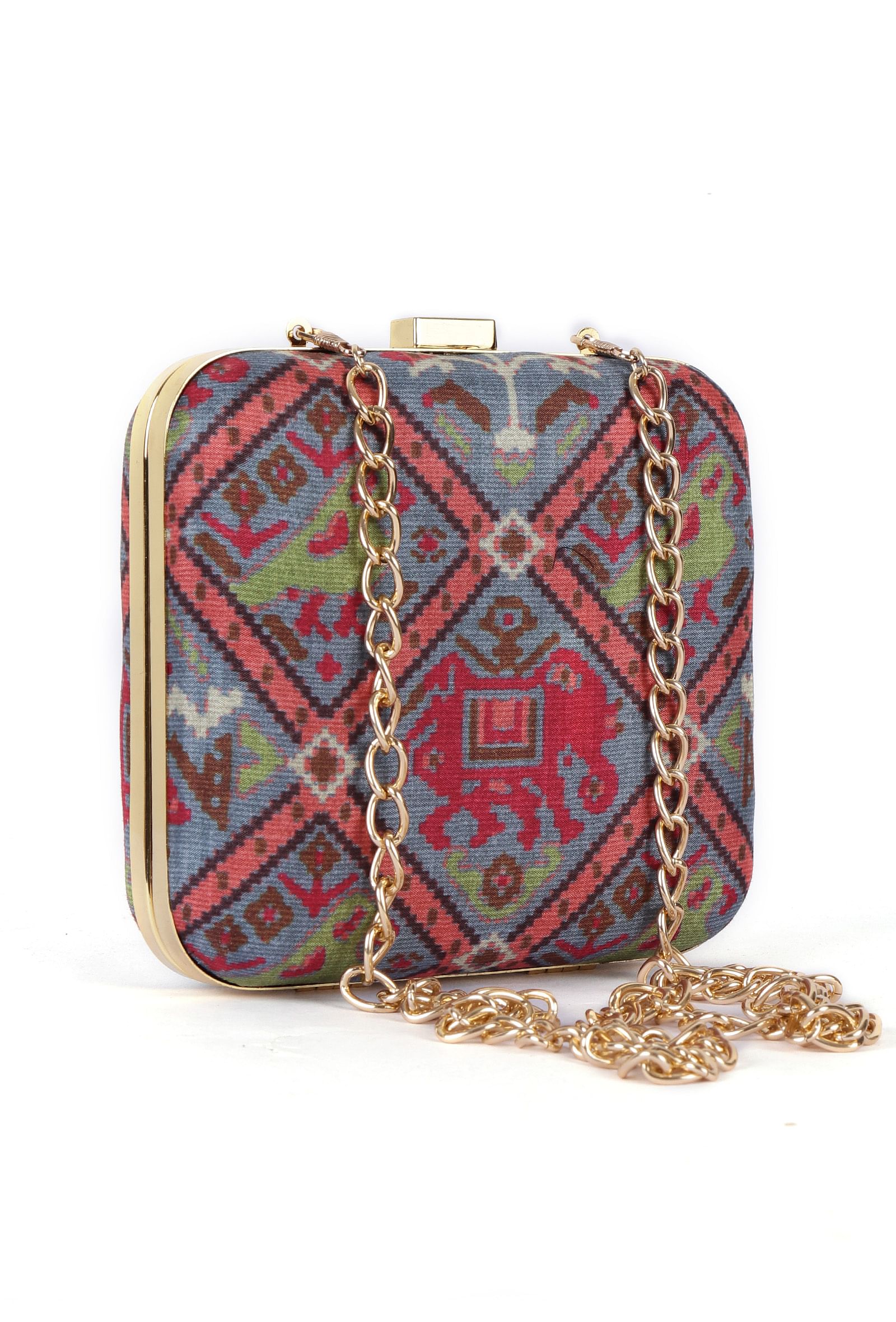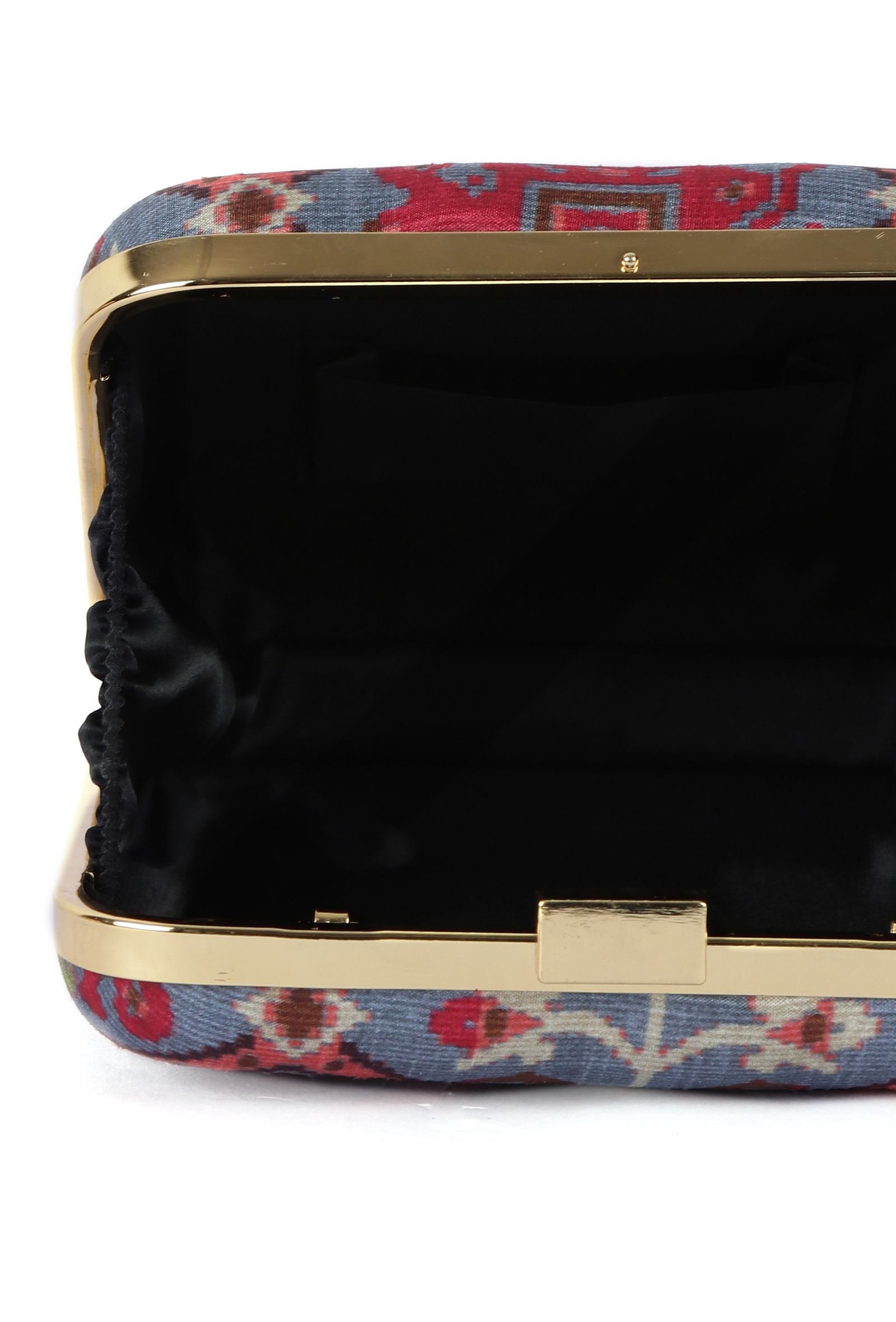 Add a unique style quotient to your attire with this statement accessory. Featuring beautiful patola prints, this multicolor square clutch has one spacious main compartment and comes with a metal lock closure and detachable sling. Dimension In Inches: H: 6.5 Inches, L: 8 Inches, W: 2 Inches, Handle: 23 Inches
Regular price

₹2,374.00

Sale price

₹2,374.00

Unit price

/

per
15-day free returns

Free cash on delivery
Saagah's new collection features a range of Patola printed box clutches, which are trendy and functional accessories that can be paired with different outfit styles. These clutches are made from high-quality materials and feature intricate Patola prints, which are known for their vibrant colors and intricate designs.
Patola is a traditional Indian textile that is made by hand-weaving silk and cotton threads. The process of creating Patola is time-consuming and requires a high level of skill, which is why it is often considered a luxurious fabric. The Patola prints used in this latest collection are inspired by traditional Indian designs and are printed onto the clutches using advanced printing technology.
The box shape of these clutches makes them perfect for carrying small essentials, such as a phone, wallet and keys. They come with a detachable chain strap, which allows them to be worn as a shoulder bag or carried as a clutch. These clutches are available in different colors and designs, so there is sure to be one that suits your personal style.
Overall, Saagah's new collection of Patola printed box clutches is a must-have for anyone who wants to add a touch of traditional Indian elegance to their wardrobe. They are versatile, functional, and stylish accessories that are sure to become a staple in your collection.
Patola Print Box Clutches
Add a touch of ethnicity to your look with our stunning range of accessories collections. These luxurious Patola printed box clutches will add a unique style quotient to your attire and serve as a statement piece that surely deserves a place in your wardrobe.
Quality you can trust.
Saagah is all heritage inspired treasures, we craft products specially for you.
Come and explore the world of Saagah - where heritage meets contemporary style, and every product is a treasure waiting to be discovered. We believe that every product has a story to tell, and we strive to share these stories with the world through our products.
Most adorable
Saagah is very the most adorable brand I've came to. It is a really comfortable piece that can be worn in festive season, in the spring, or during the summer. Very highly advised and highly recommended...
Komal Pandey
Very tempting product...
It's an excellent product 💕. Well worth the money. Love the way they made the delivery but it was slightly delayed due to some issue.
Nidhi
Very Affordable...
The addition of this jewellry set to my closet is a true joy. Everything from quality to material is amazing at such a low take-home cost. I love the this peice and I'm looking to buy others!
Aditi Singh
Amazing quality!
This piece is a winner because of the quality, the craftsmanship, the elegance, and the PERFECT making. Highly recommended. Thank you saagah team...
Pallavi Thakur
Awesome...
Fabulous service, I've discovered this brand very recenty. I got my delivery in 7 days. Fab product. You can blindly trust them in quality. Crafted and unique
Ayushi Tiwari