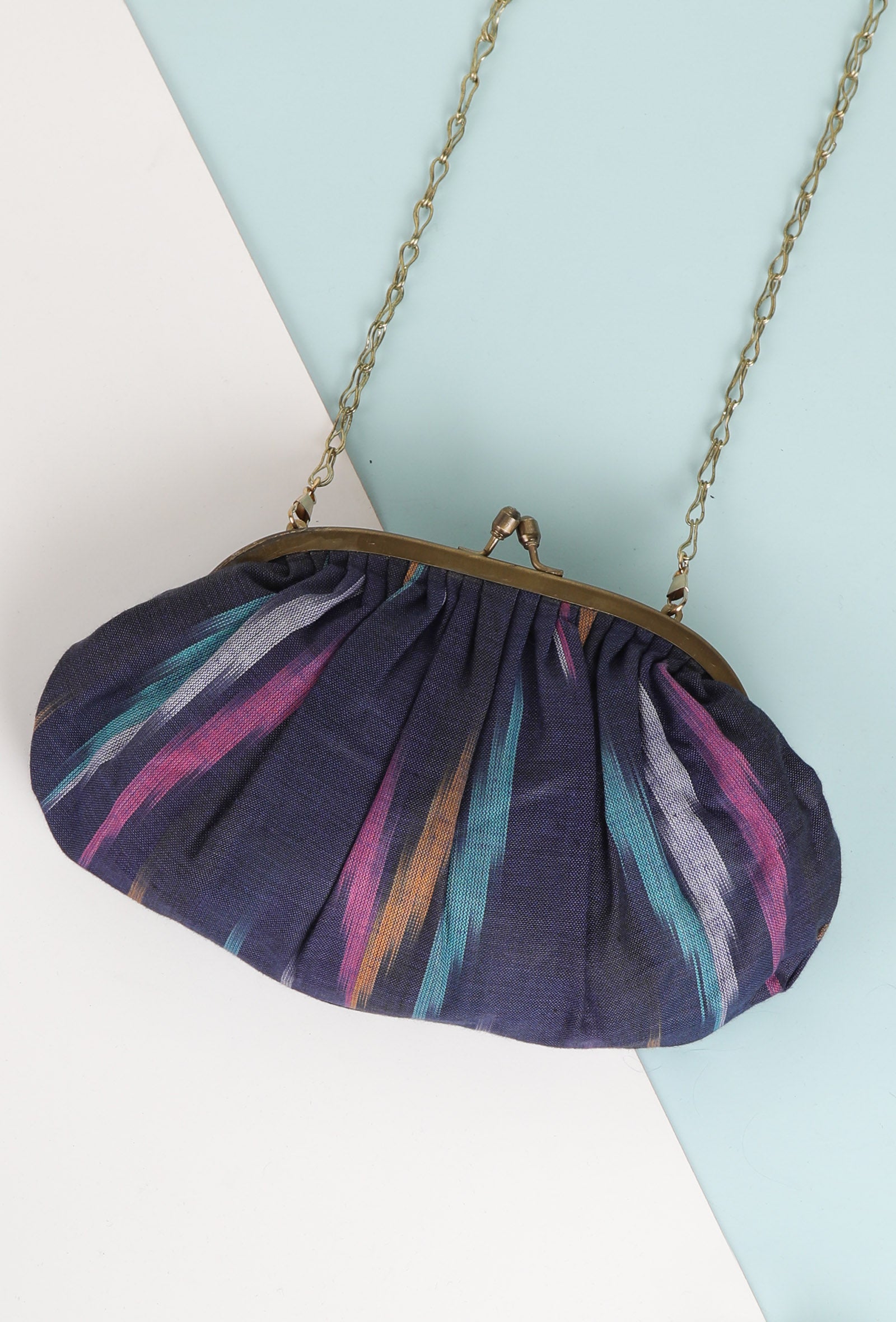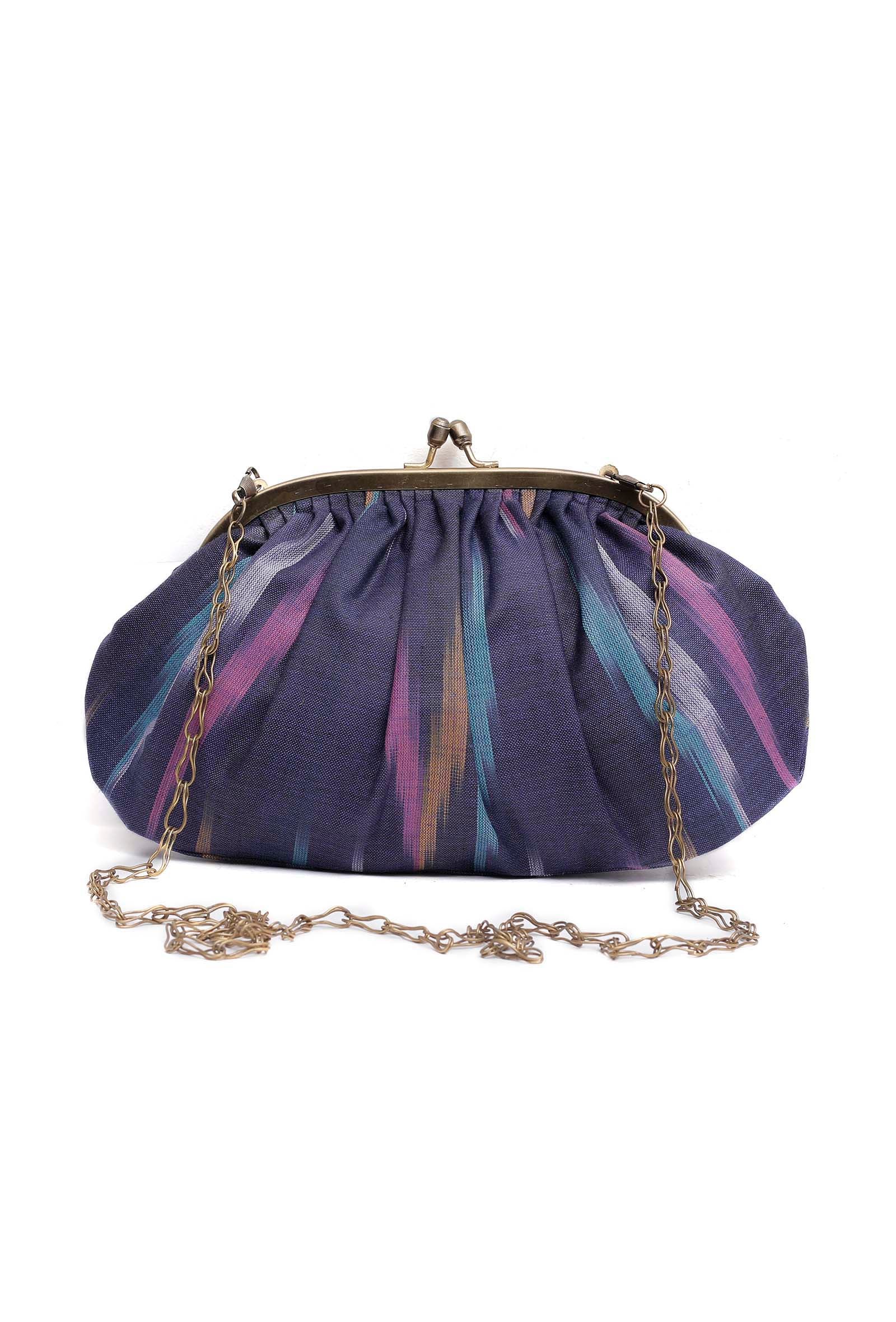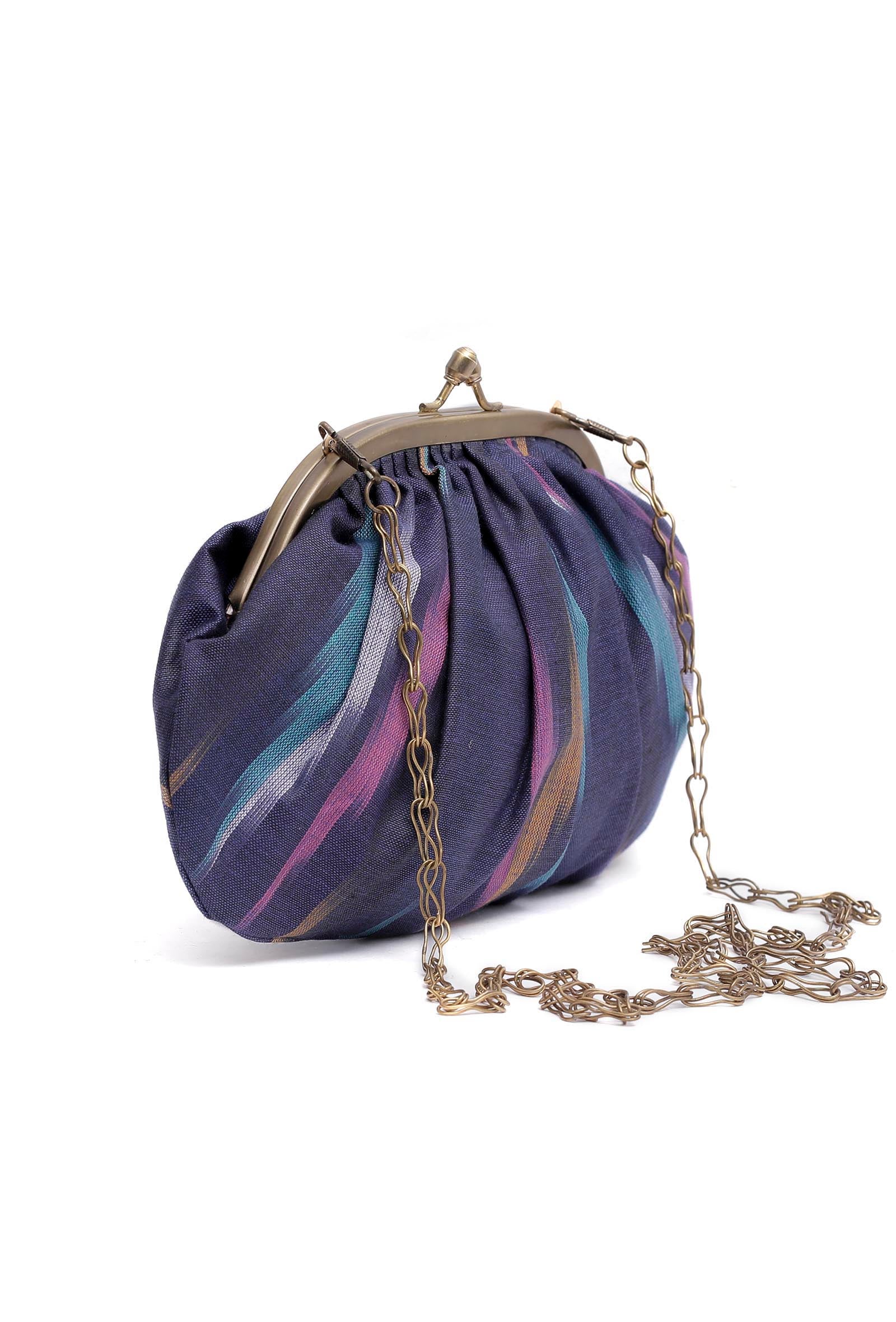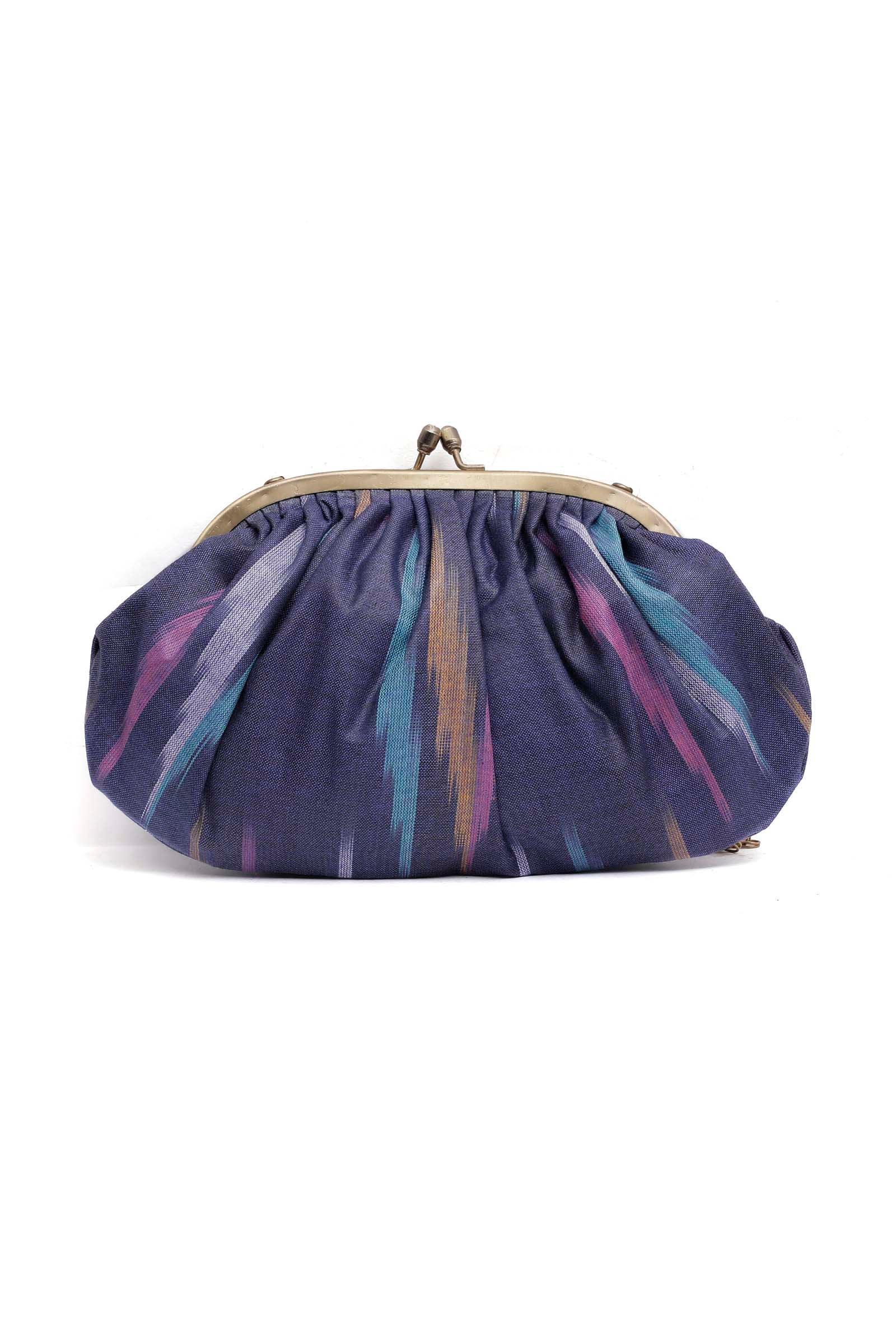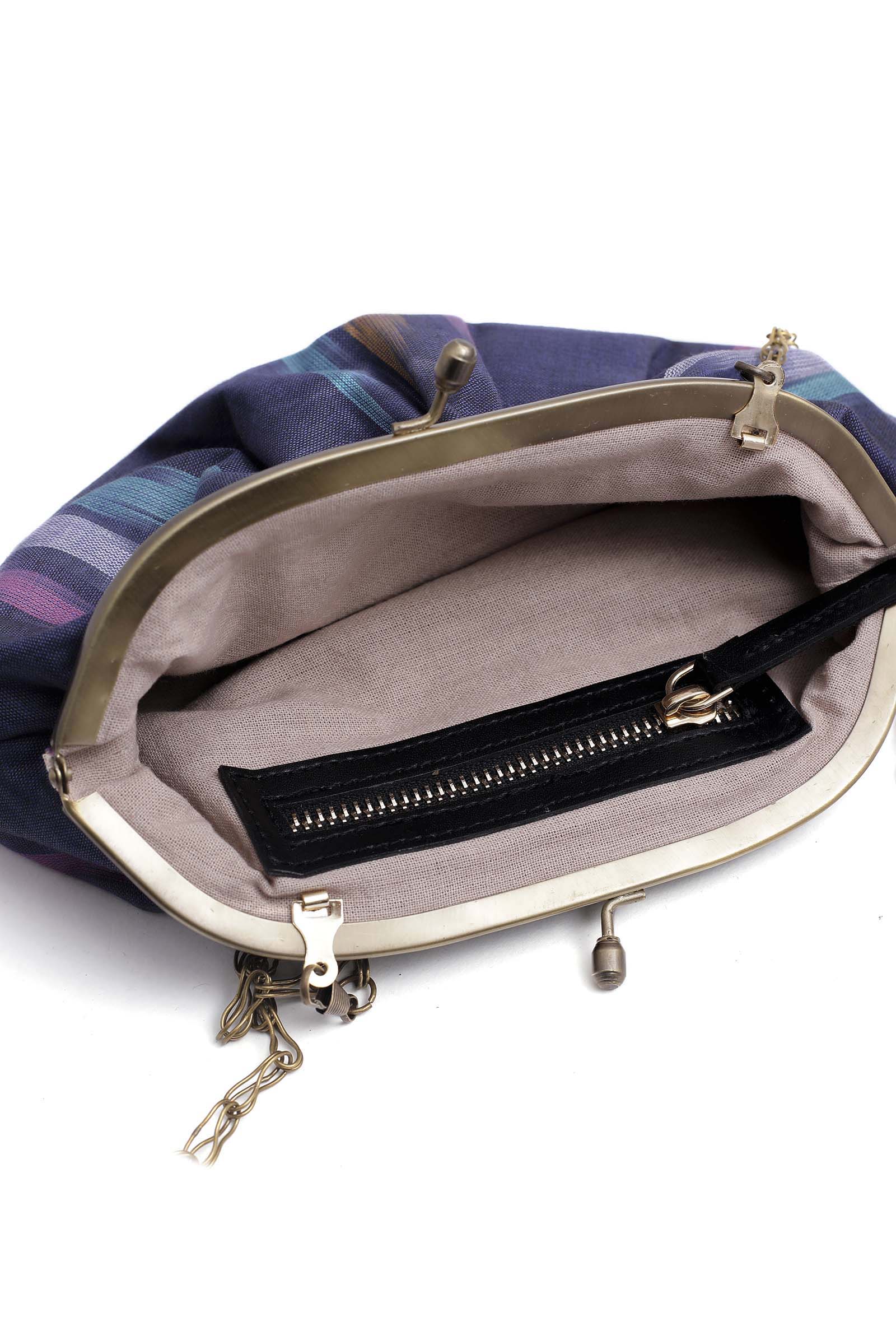 Designed aesthetically in Ikat craft with contrasting colors. Acknowledged for their fine finish, smooth texture, and easy to carry. The clutch comes with chain and clutch magnetic closure for feasible use. The inner lining is made of cotton to provide a sophisticated touch and has an inner zip closure for extra storage. Dimension: H- 6.4 Inches, L- 6.5 Inches
Regular price

₹1,599.00

Sale price

₹1,599.00

Unit price

/

per
15-day free returns

Free cash on delivery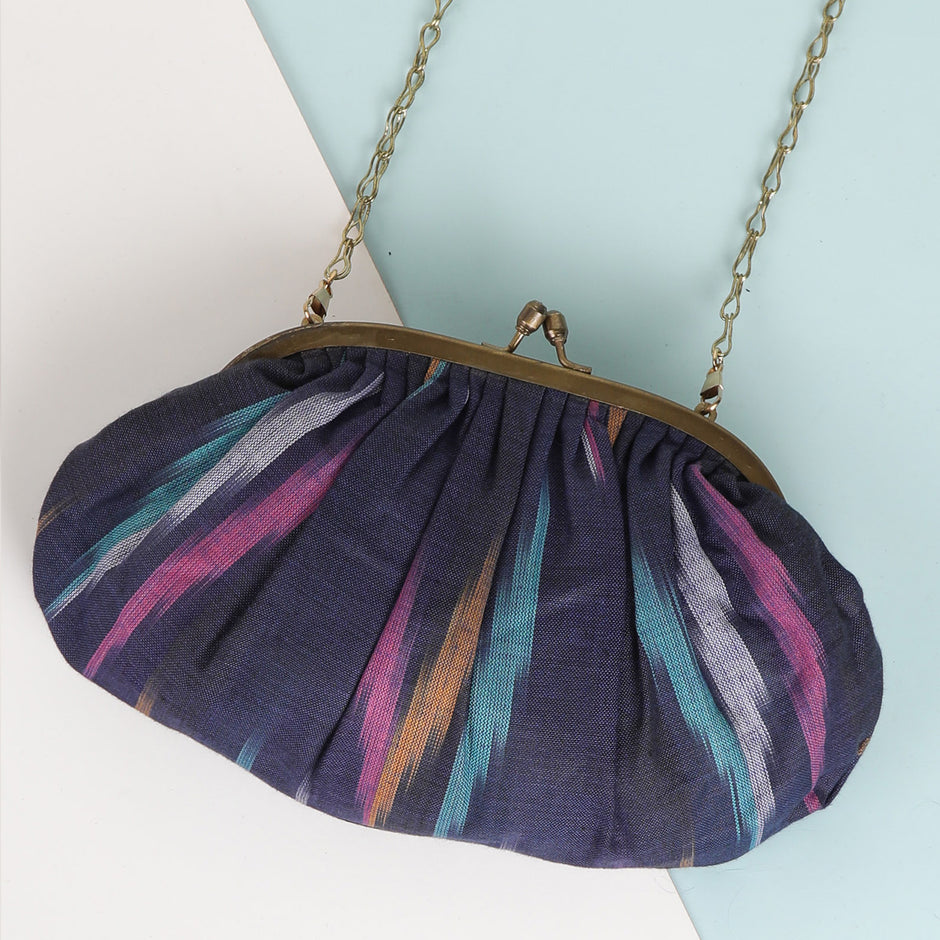 Introducing the stunning and versatile Ikat clutch bag collection Amaanat - a true masterpiece of art and fashion. This collection stands out for its captivating blend of contrasting colors in Ikat weaving patterns, delicately woven onto a smooth and luxurious texture.
Each clutch bag is a unique representation of the rich heritage and culture of Ikat weaving. The intricate patterns and striking colors create a bold and eye-catching statement that exudes ethnic elegance and sophistication.
Saagah's Ikat clutch bags are not just stylish but also highly functional, offering ample space to carry all your essentials with ease. The bags are crafted with precision and attention to detail, ensuring durability and reliability.
Whether you're looking to make a bold fashion statement or complement a subtle outfit, the Ikat clutch bag from this collection is a perfect accessory. The vibrant colors and exquisite patterns of the Ikat fabric add a touch of artistic flair to any ensemble, making it a versatile accessory for any occasion.
Contemporary Ikat Clutch Bags
A remarkable work of art that offers a unique blend of age-old craftsmanship and contemporary fashion. These ikat clutch bags are a must-have for fashion enthusiasts and anyone who wants to add a touch of sophistication and elegance to their wardrobe.
Quality you can trust.
Saagah is all heritage inspired treasures, we craft products specially for you.
Come and explore the world of Saagah - where heritage meets contemporary style, and every product is a treasure waiting to be discovered. We believe that every product has a story to tell, and we strive to share these stories with the world through our products.
Most adorable
Saagah is very the most adorable brand I've came to. It is a really comfortable piece that can be worn in festive season, in the spring, or during the summer. Very highly advised and highly recommended...
Komal Pandey
Very tempting product...
It's an excellent product 💕. Well worth the money. Love the way they made the delivery but it was slightly delayed due to some issue.
Nidhi
Very Affordable...
The addition of this jewellry set to my closet is a true joy. Everything from quality to material is amazing at such a low take-home cost. I love the this peice and I'm looking to buy others!
Aditi Singh
Amazing quality!
This piece is a winner because of the quality, the craftsmanship, the elegance, and the PERFECT making. Highly recommended. Thank you saagah team...
Pallavi Thakur
Awesome...
Fabulous service, I've discovered this brand very recenty. I got my delivery in 7 days. Fab product. You can blindly trust them in quality. Crafted and unique
Ayushi Tiwari