Shell Jewelry can be your perfect companion for every occasion. Whether you are heading for an office meeting, a beach vacation, or going out for a girl's night out. Shell Jewelry is boho, easy to style, and lightweight. 
Shell Jewelry is intertwined with beaches as their origin is associated with them. Their color and shape resemble the sea and their earthy look resonates with the natural beauty of the sea. Shell jewelry has been an integral part of jewelry essentials. Anklets, bracelets, pendants, earrings, and necklaces are an integral part of shell jewelry. 
Embracing this coastal charm doesn't stop at the shoreline. When we talk about beach fashion, shells come to mind. Why not incorporate these into your jewelry? Where the beachy look is celebrated for its relaxed bohemian elegance. These are timeless and beloved accessories. Whether you're strolling along the beach or attending a seaside soiree, simply yearn to infuse your style with these statement pieces. Here, we will show you some jewelry from our collection and ways to style them.
Shell Jewelry from Saagah
Jewelry for women has always been very special. These pieces accentuate your whole outfit and make you look elegant. For a truly beach-inspired look, try our products. Discover the allure of the ocean's treasures with Saagah's exquisite collection of jewelry. Embrace the natural beauty and serenity of the sea. We bring you a range of handcrafted pieces that effortlessly blend coastal charm with timeless elegance. Each creation reflects the essence of the shoreline, allowing you to carry a piece of the beach with you wherever you go.
Cowrie Shell Thread Anklets
Crafted with a delicate black thread, these anklets showcase several cowrie shells. You can wear these as bracelets as well. They are a symbol of luck and protection. Its minimalist design exudes a sense of tranquility and simplicity. With its clean lines and timeless appeal, it's the perfect embodiment of minimalism. When you are taking a stroll on the beach, you can showcase these well under a dress.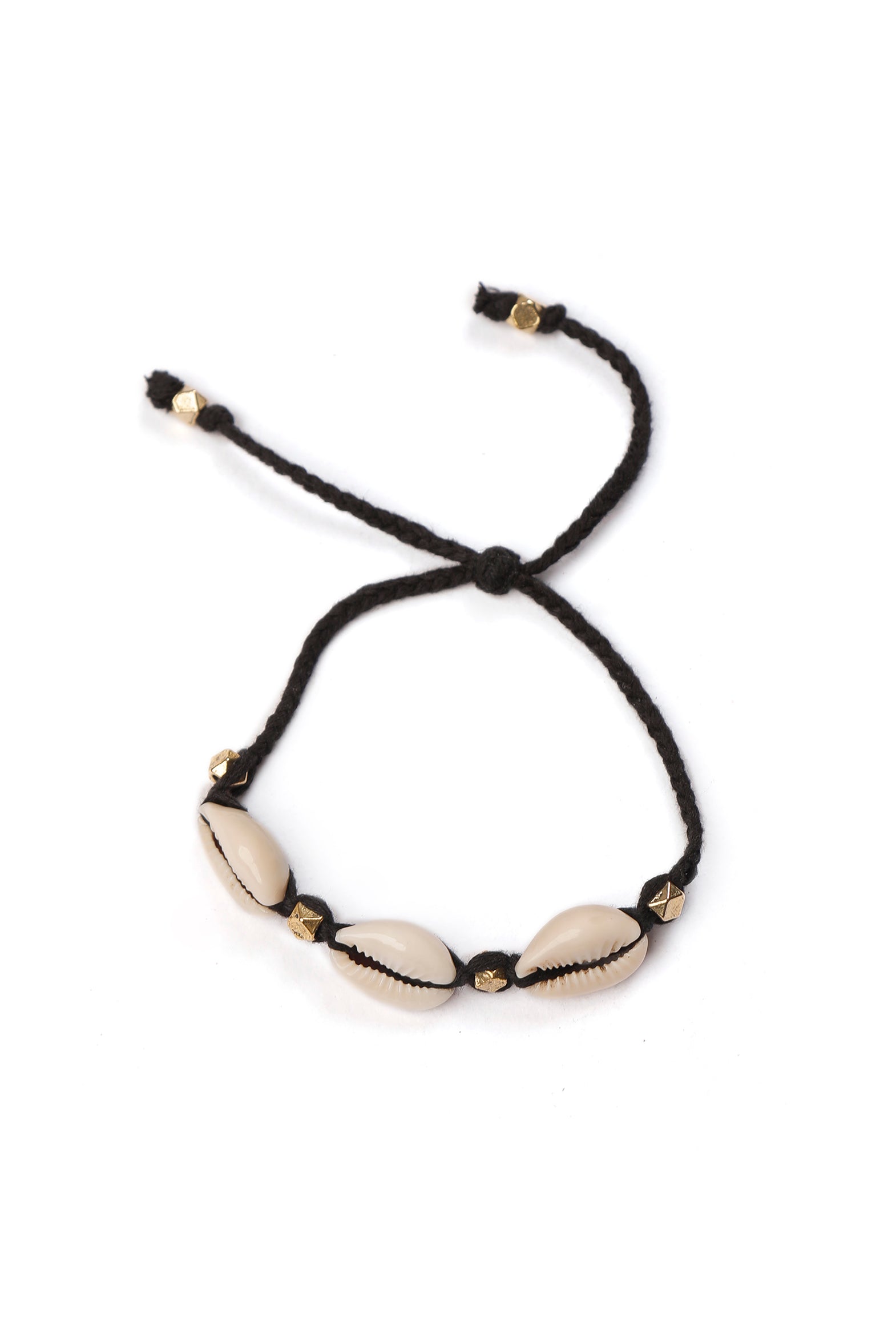 Tasseled Seashells Blue Bracelet
Bracelets are all about hanging from a dainty rope when it comes to beachwear. This bracelet from Saagah is a stunning coastal-inspired shell jewelry. It captures the essence of the sea. Adorned with an array of delicate blue seashells and playful tassels, this bracelet exudes a carefree and beachy vibe. The combination of oceanic blues and the tactile charm of the tassels evoke images of sun-drenched shores and salty breezes.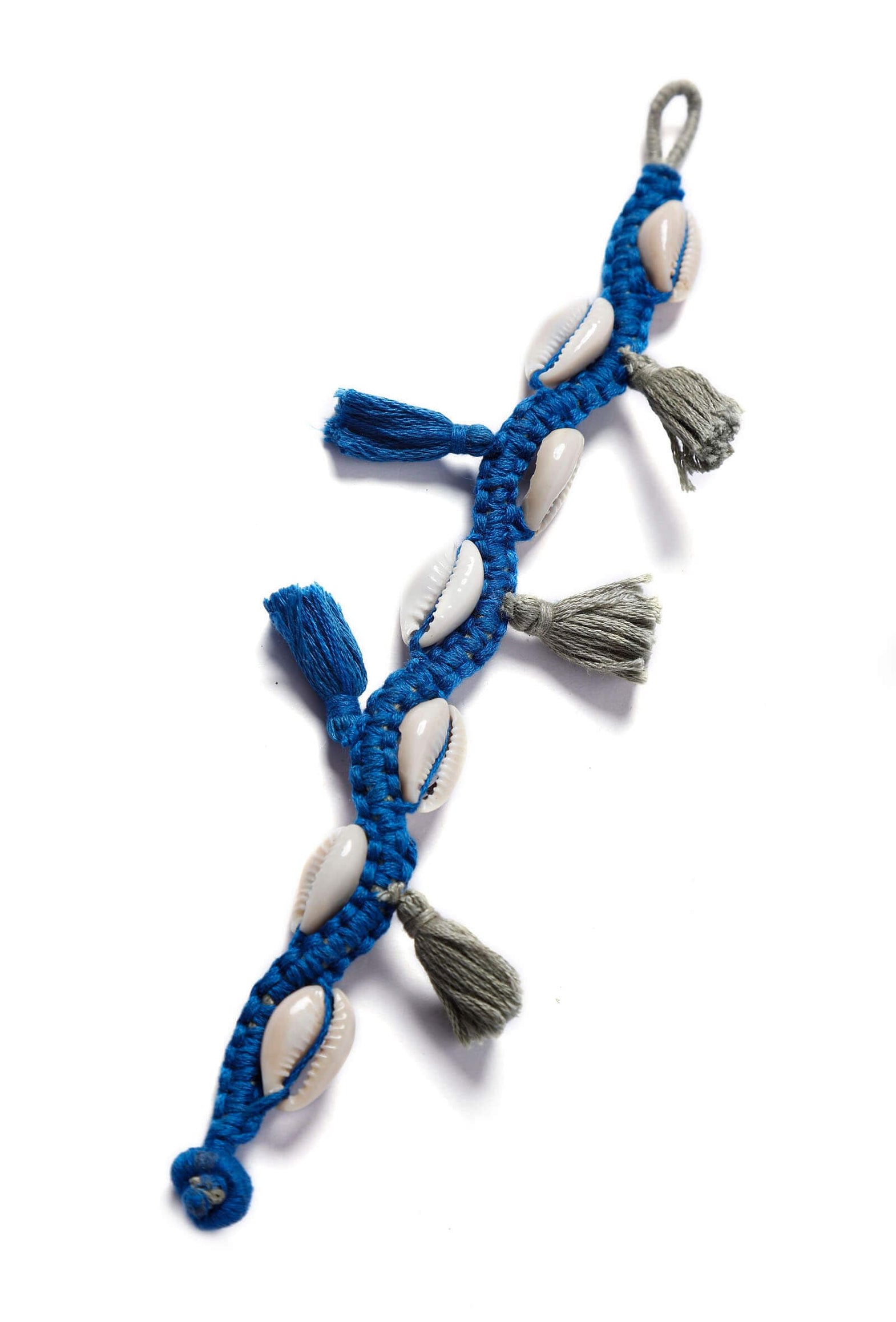 Seashell And Coin Hoops Earrings
Elevate your coastal chic style with our conch shell earrings. These statement earrings effortlessly blend the rustic charm of seashells with German silver coin accents. These are delicately crafted to capture the essence of beachside beauty. The sandy shores and salty air all go well with these. The earrings have a touch of bohemian flair and a hint of vintage sophistication. Embrace the coastal spirit and let these shells do the talking.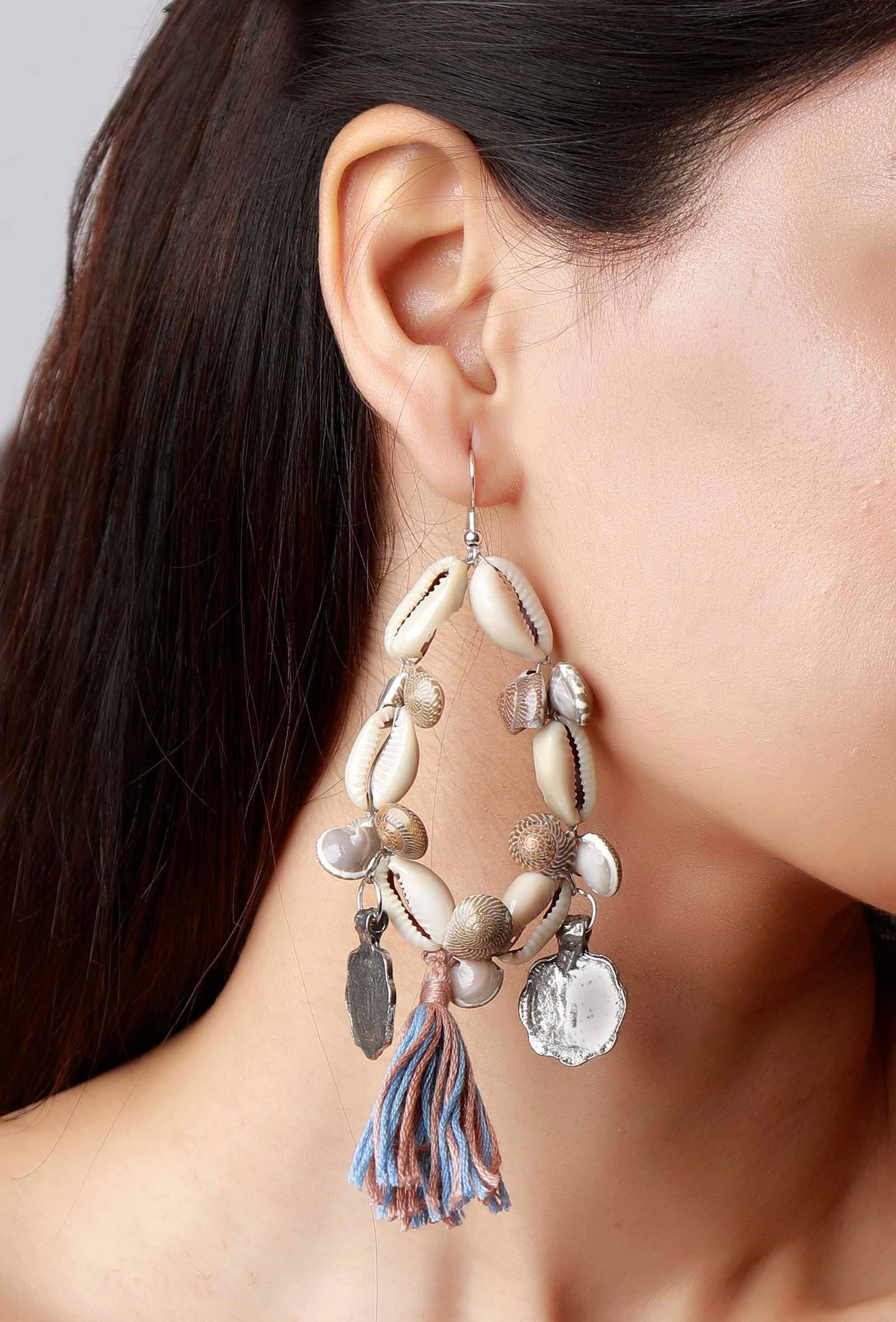 Green Thread Cowrie Shell Necklace
Lovely as a day at the beach, this seashell necklace is the best way to beat the summer heat. It has been handcrafted with cowrie shells and green thread tassels for a boho chic look. The vibrant green hue reflects the lush coastal landscapes. This cowrie shell jewelry is known for its protective symbolism.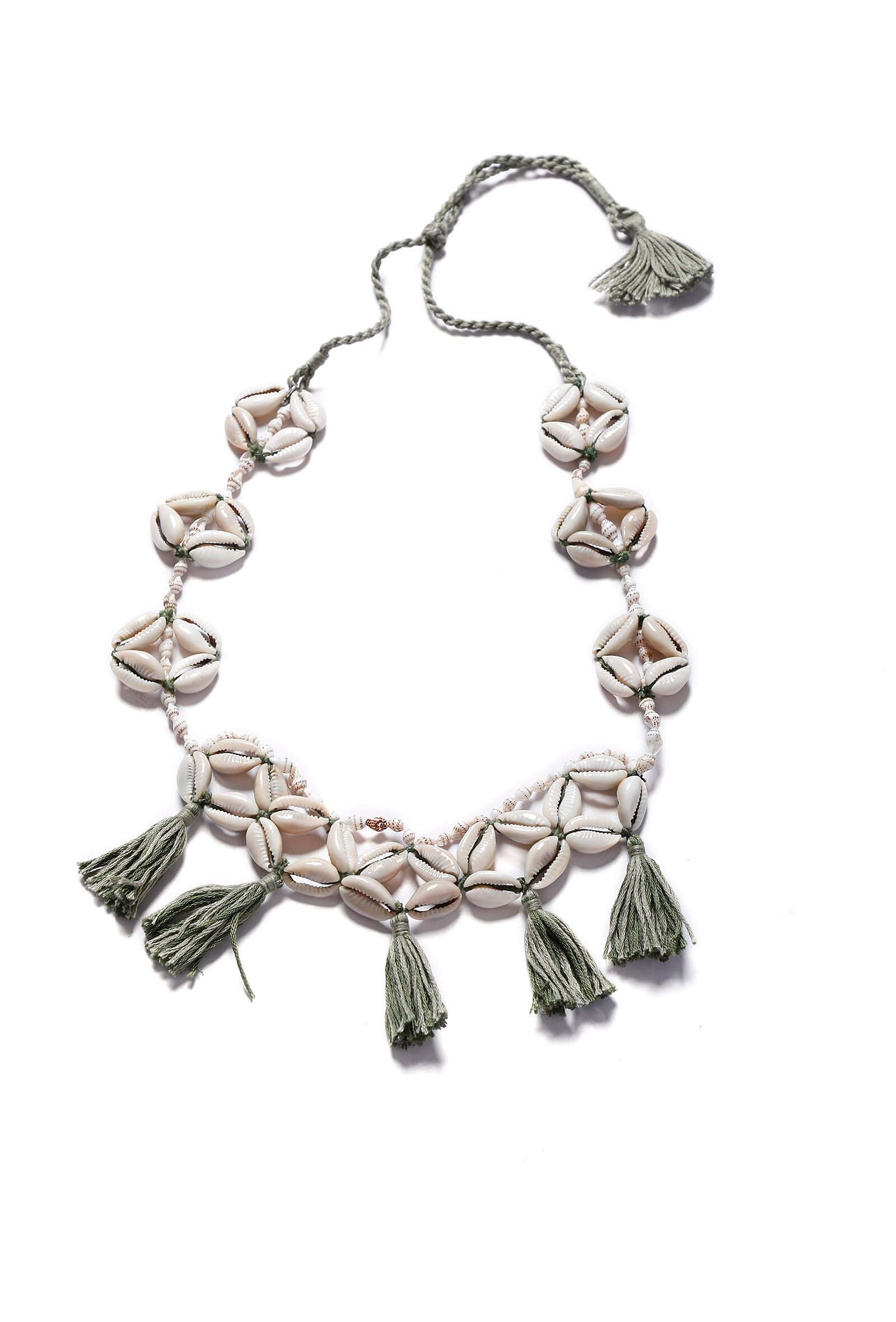 How to Style Them for Beachy Looks
We have already seen several fashion houses set precedents for this jewelry on runways. These statement pieces can brighten any outfit and anyone's day while remaining elegant. It reminds us of youthful, carefree days spent on the beach. Shells are natural boho outfit accessories. If you are looking to style our jewelry for women for beachy looks, here are some ideas.  
There are several ways to add these to your beach outfits.
High-Fashion Looks
If you want to look fashionable and gorgeous edgier, pair your black swimsuit, with the shell jewelry of your choice. Opt for any cowrie shell choker or bracelet from our collection to pair with your beachwear. It will instantly elevate your fashion sense. Not only will you make a style statement, but you'll also exude a youthful and energetic vibe. Complete your beachy look with natural, tousled beach waves in your hair. The combination of our shell jewelry and beachy hair enhances the overall coastal charm.
Serene and Chic Look
You might prefer a more serene and laid-back persona at the beach. Consider incorporating longer and lighter pieces from our collection. You can go for Saagah's anklets, earrings, or bracelets for this. For instance, accessorize your bathing suit or cover-up with our delicate anklets. These styles may be small, but they radiate stunning simplicity and elegance. Go barefoot or wear minimalist sandals to complement your jewelry. This minimalist footwear style enhances the beachy look and lets your jewelry take center stage.
Conclusion
By following these styles, you'll infuse a touch of beachy radiance into the season. Explore our exquisite shell jewelry for women collection to discover your beach-worthy piece. These will leave your friends envious of your style. Our jewelry pieces are meticulously crafted by designers to give you that gorgeous look. Rest assured that the durability of our jewelry will withstand the test of time. The delicate shells along with the strong bonding of the strands will make you stand out.